Puccini Gloria (60th anniversary) ()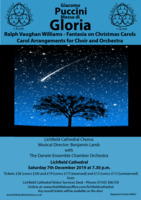 Come and join Lichfield Cathedral Chorus at the end of its 60th anniversary year as it launches into the Advent season with a performance of Giacomo Puccini's glorious, youthful and highly operatic Messa di Gloria, to which Ralph Vaughan Williams' charming, folksy Fantasia on Christmas Carols will add yet more festive cheer. And, as if that weren't already enough, the programme is topped off by a set of Christmas carols for choir and orchestra, specially arranged for the occasion by our Musical Director, Ben Lamb: The darkest midnight in December, Down in yon forest, Gaudete and The Angel Gabriel.
The Chorus was conducted by Ben Lamb and joined by the Darwin Ensemble Chamber Orchestra, Robert Jenkins (tenor solo), Philip Lancaster (bass/baritone solo) and Alexander Woodrow (organ and repetiteur).
Pieces
Venue
Lichfield Cathedral, The Close, Lichfield, WS13 7LD [map]
« Mass in Blue (Jun 2019) ‖ Christmas Carol Concert (Dec 2019) »
---
Reviews
Review of Puccini Gloria
It was a splendidly planned programme for Lichfield Cathedral Chorus's sixtieth anniversary concert in the Cathedral. The range of sounds, from the DECO Chamber orchestra's atmospheric opening cello solo in Ralph Vaughan Williams' popular Fantasia on Christmas Carols to the joyous ending of the Gloria at the conclusion of Puccini's Messa di Gloria, covered the entire gamut of the performers' abilities, with conductor Ben Lamb's delightful arrangements of four Christmas carols making a tasty filling in the sandwich.
The Vaughan Williams is a cleverly devised work, starting with the evocative sounds of the Truth from above mellifluously sung by baritone Philip Lancaster and supported with warm chords from the well-balanced choir. Vaughan Williams' clever scoring ensures that even when the work becomes more complex with two carols happening simultaneously the soloist will always be heard within the texture, and indeed there was generally a good balance throughout the evening between orchestra, choir and soloists.
Ben Lamb's arrangements of four carols gave us an opportunity to hear the fine tenor Robert Jenkins blending well with Philip Lancaster , particularly in Down in yon forest, and the light orchestral accompaniment and colourful scoring were just right in this charming set, which certainly deserves to become part of the repertoire. One of my favourites, Gaudete, was somewhat too genteel on the night, but with a little more familiarity with the words the next performance should attain that wild medieval excitement it demands. Indeed, diction throughout these carols could have been clearer…we did not have the words printed in the programme, which made understanding them more challenging.
So to the Puccini Messa di Gloria… a new work for me, and a lovely indulgent mini-Verdi experience. It was not until reading the programme after the concert that I discovered it was written by an 18-year old Puccini, inspired by the Grand Master Verdi's Aida, and the combination of youth and operatic fervour gives it a refreshing flavour and it must be a joy to perform. At the very opening, the orchestral introduction gave a sense of clear daylight, and indeed many members of the choir lost their anxious faces and were seen to be smiling, enjoying DECO's rich string sounds. The work has huge contrasts of dynamics and style (which were well handled), and whilst understandably derivative from such a young composer is nevertheless tuneful and well written for voices and instruments alike. It is not all straightforward…the Cum sancto spiritu fugue in the Gloria, which harks back to earlier traditions, is a short but real fugue using traditional fugal devices, (perhaps as a means of impressing his teachers in this graduation piece), and it was good that the order of movements was adjusted so that the concert could finish on this bright note. Both soloists featured again here, with Robert's operatic and crystal clear sound suiting his part well. The bass part has a big range, and some of the lower notes were not quite suited to Philip's liquid baritone voice; fortunately the lightness of the orchestral texture gave plenty of space for both choir and solo voices to shine through throughout the concert.
It was good to have some new musical experiences on this special occasion…the choir should be proud of the progress they have made over the last 60 years (and I have been listening for 40 of them!) in ever-improving tone, balance and blend, and of their bravery at tackling the new works which are put before them by their imaginative conductors.
Megan Barr, December 2019