Ben Lamb (Musical Director)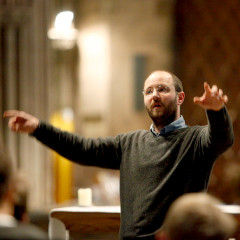 Ben Lamb is Director of Music at Lichfield Cathedral. His love of choral music was kindled as a chorister at Salisbury Cathedral, and has been a key part of his life ever since. He has held organ scholarships at Truro and Salisbury Cathedrals and spent some years in the classroom, latterly as Head of Music at La Retraite Swan School (now Leehurst Swan School) in Salisbury. While teaching, he founded Sarum Voices, a semi-professional choir which he still runs today, and with whom he has recorded several albums. Prior to his move to the Midlands, he was Organist and Master of the Choristers at St Peter's Bournemouth, and sang as a regular deputy lay vicar with various Cathedral choirs.
When his wife, Cathy, was appointed Assistant Organist here, he took up the post of Director of Music Outreach at St Peter's Collegiate Church, Wolverhampton, combining this with singing work at Birmingham Cathedral until an Alto vacancy came up in Lichfield Cathedral Choir. During the two years he held this post, he was also appointed Singing Teacher at Wrekin College, and took on the directorships of the Beaumaris Singers and (very briefly) the Midlands Chorale.
Liam Condon (Accompanist)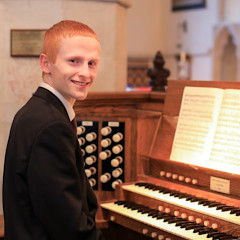 Liam Condon currently holds the Organ Scholarship at Lichfield Cathedral for the academic years 2019–2020 and 2020–2021. He works with the Cathedral Music Department, helping with training new choristers and accompanying the girl voices of the Cathedral Choir. He has also regularly acted as accompanist to the Cathedral Chamber Choir under the direction of Martyn Rawles. Liam is a visiting music teacher at Lichfield Cathedral School where he teaches piano, theory and organ and is a Choral Animateur for the Cathedral's music outreach programme, MusicShare.
Prior to becoming organ scholar at Lichfield, Liam graduated from Royal Holloway, University of London with a degree in Music. As organ scholar under the tuition of Rupert Gough, he has worked closely with the Chapel Choir of Royal Holloway playing live on BBC Radio 3 and 4 as well as touring with the choir to various destinations in Europe and North America. This has given him the opportunity to play in prestigious venues from St Paul's Cathedral, London, to the Winspear Centre Concert Hall, Edmonton, Canada. Alongside his degree, Liam was Director of Music of St Michael and St Mary Magdalene Church in Bracknell where he founded a children's choir and developed the adult choir. He also directed a small series of concerts to celebrate the 150th anniversary of their organ as well as giving musicians in the congregation the opportunity to perform in a concert including a variety of music genres.