Mass in Blue ()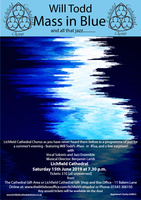 Since its composition in 2003 as a commission for the Hertfordshire Chorus, Will Todd's Mass in Blue has been widely performed both in the UK and further afield, and has quickly established for itself a place in contemporary choral repertoire.
Scored for soprano solo, four-part chorus, piano, bass, drums and optional alto saxophone, it offers a fine and exciting reworking of the Latin Mass in modern idiom. Tonight's band and soloist:
Piano: Sam Hanson
Electric Bass: Stephen Harrison
Drums: Richard Baker
Soprano solo: Augusta Hebbert
Preceded by Three Jazz Love Songs arranged by Ben Lamb, featuring Augusta Hebbert (soprano), Ailsa Cochrane (mezzo), Ben Lamb (alto), Robin Morton (tenor) and Simon Gallear (bass):
I'm Beginning To See The Light (James, Ellington, Hodges, George)
(They Long To Be) Close To You (Bacharach, David)
Old Devil Moon (Lane, Harburg)
…and an arrangement of George Herbert's poem Love (by Ben Lamb, in a more "louche" style than the one in Vaughan Williams' Five Mystical Songs).
Pieces
Venue
Lichfield Cathedral, The Close, Lichfield, WS13 7LD [map]
« Verdi Requiem (Apr 2019) ‖ Puccini Gloria (60th anniversary) (Dec 2019) »
---
Reviews
Mass in Blue
Well, that was something different! After Lichfield Cathedral Chorus's triumphant performance of Verdi's Requiem in April, it was hard to imagine how they could match it in their Summer Concert. But the complete change of style which Will Todd's Mass in Blue presented to them was a challenge they rose to exceptionally well, particularly given the short window of rehearsal time of only six sessions.
The choir was greatly reduced in size from its April numbers, but that in no way diminished their enthusiasm and determination to get this beautiful Jazz Mass across to the audience. They were partnered by a fine trio of Sam Hanson on piano, Stephen Harrison on bass guitar and Richard Baker on drums, along with versatile soprano Augusta Hebbert, who we are told also performed the solo at conductor Ben Lamb's first performance of Mass in Blue some years ago in Salisbury.
This was an excellent choice of work to follow on from the Verdi; challenging and possibly out of the comfort zone of many of the singers, but they had worked incredibly hard to learn the complex parts in such a short time and produced a very enjoyable performance. Although the idiom is blues jazz, with its flexible rhythms and improvisatory nature, it was strictly notated, and the real challenge was to make the work feel relaxed and improvisatory within these quite strict written confines. The opening Kyrie may have been a little tentative, but once we got into the Gloria confidence was kicking in, and the Credo and Benedictus particularly were vibrant, all supported by the fine jazz trio and the fabulous singing of Augusta Hebbert. Indeed, the final Credo saw some of the choir really getting into the jazz idiom with flair and even a hint of physical bounce. The performance also included an improvisatory piano interlude, which gave us a relaxed moment and for me was all too short.
The concert opened with some arrangements by Ben of three popular love songs, and a fine composition of his own, in which he and Augusta were joined by the familiar faces of Robin Morton, Ailsa Cochrane and Simon Gallear…but how versatile they proved themselves to be in this soft jazz idiom. They were all clearly thoroughly enjoying this opportunity to let their hair down a touch, setting the tone for the evening.
I have to admit to having been pleasantly surprised by the quality of the evening's performance by all performers, and admiring of the effort which has gone into it. It's a shame that there is unlikely to be a re-run in the not-too-distant future, whilst it is still fresh in the choir's memory, so that they could perhaps let their hair down further, as did the soloists, and even look a little more cheerful and, dare I say, colourful!
Megan Barr, June 2019