Bach: B Minor Mass ()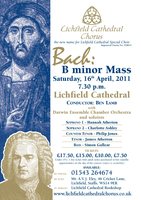 Bach: B Minor Mass (BWV 232) (1749)
Concert with DECO Darwin Ensemble Chamber Orchestra and soloists:
Hannah Atherton, Charlotte Ashley
Philip Jones, James Atherton, Simon Gallear
Pieces
Venue
Lichfield Cathedral, The Close, Lichfield, WS13 7LD [map]
« Mozart Solemn Vespers; Haydn St Nicolai (Dec 2010) ‖ Choral greats (Jun 2011) »
---
Reviews
Chorus and orchestra portrayed a vision of massed heavenly choirs
On Saturday evening, 16 April 2011, in the beautiful setting of Lichfield Cathedral at 7.30pm, at the end of a glorious Spring day full of tree blossom and fresh green leaves, the Lichfield Cathedral Chorus under the baton of Ben Lamb, with the support of the Darwin Ensemble Chamber Orchestra (DECO), performed one of the greatest works written for such forces, the B Minor Mass of J.S. Bach.
The piece is a taxing work for chorus, soloists and orchestra with many sections that expose the courage and skills of the performers mercilessly. The performers rose to the challenge well, living up to their glorious surroundings with a performance that often sounded fresh and exciting and was usually founded on a metronomic rhythm.
The conductor is to be congratulated on maintaining a rock steady pulse throughout, especially in the early movements, that drove the performance forward and helped singers and instrumentalists to make music together successfully, even if some of his tempi felt a little more measured at times than might have been expected, for example in the 'et resurrexit' of the Symbolum Nicenum. On the other hand, 'et expecto' was suitably joyful and 'osanna in excelsis' sounded as though the performers really meant it.
Several movements particularly caught my attention for various reasons, but some stand out: the 'Domine Deus' of the Gloria was a finally balanced duet in which the soloists wove their voices round each other, complemented by liquid flute playing; in the 'Cum Sancto Spiritu', the rumble of the relentless fugue, sustained by the well disciplined choir, was punctuated by vivid orange flashes of trumpet fire from the orchestra; as the final movement rose majestically the chorus and orchestra portrayed a vision of massed heavenly choirs singing the praises of God, perhaps as Bach had imagined it, in a suitably baroque manner.
A fine flowering of music to end a fine day that suggests the newly named Lichfield Cathedral Chorus is building excitingly on its predecessor's strong musical reputation.
Hugh Busher, May 2011