Concert: Mozart Solemn Vespers; Haydn St Nicolai
(Sat 4 Dec 2010)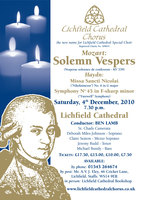 Works for Chorus with soloists and orchestra
Haydn: Missa Sancti Nicolai ('Nikolaimesse') No. 6 in G major (1772)
Haydn: Symphony No. 45 in F-sharp minor ("Farewell" Symphony) (1772)
Mozart: Solemn Vespers (Vesperae solennes de confessore - K. 339) (1780)
Orchestra: St Chad's Camerata
Soprano: Deborah Miles-Johnson
Mezzo Soprano: Claire Seaton
Tenor: Jeremy Budd
Bass: Michael Bundy
The "Farewell" Symphony was written for Haydn's patron, Prince Nikolaus Esterházy, while he, Haydn and the court orchestra were at the Prince's summer palace in Eszterhaza. The stay there had been longer than expected, so, in the last movement of the symphony, Haydn subtly hinted to his patron that perhaps he might like to allow the musicians to return home: during the final adagio each member of the orchestra snuffed out his candle and tiptoed from the stage until only Haydn and the lead violinist remained. The Prince took the hint and they returned home at the beginning of November.
The compostition of Missa Sancti Nicolai rounds off the story of that event. On returning to Vienna, Haydn composed a mass for the Prince to be given on his name-day, the Feast of St. Nicolaus on December 6, 1772.
Mozart's Solemn Vespers is a setting of the evening Vespers and is remarkable for its harmonic invention, rhythmic vitality and seamless blending of solo voices and chorus with instrumental lines. It includes the much loved and beautiful aria Laudate Dominum.
Pieces
Venue
Lichfield Cathedral

,

The Close

,

Lichfield

,

WS13 7LD
[
map
]
« Summer celebration (Jun 2010) ‖ Bach: B Minor Mass (Apr 2011) »
---
Reviews
It augurs well for the future of this "new" choir's second half century
They say a new broom sweeps clean. The rebranding of the former Lichfield Cathedral Special Choir as the new Lichfield Cathedral Chorus may be only a cosmetic dusting, but the input of the new conductor Ben Lamb, co-Director of Music at the Cathedral, has certainly produced a far more thorough deep-clean, as their concert of Haydn and Mozart in the Cathedral last Saturday clearly demonstrated.

I had expected a crisp, responsive choir, and it was there. Almost every eye was on the conductor, and consequently diction and attack were excellent throughout. I had expected a clarity of understanding of the music, and it was there, most notably in the magnificent performance of the great Laudate Pueri fugue in Mozart's Solemn Vespers (a far from solemn work!) which literally had me on the edge of my seat. But what really surprised me from the opening chorus of the delightful St Nicholas Mass by Haydn onwards was the warm, unified blend of the choir's tone, the sopranos' youthful sound being well balanced by the other three parts at all times.

And how well the magnificent quartet of highly experienced soloists blended with choir and orchestra! They were all outstanding in both the Haydn and Mozart. Although Michael Bundy's bass was perhaps slightly underpowered from where I happened to be sitting, the performance of all four was exemplary, polished and balanced, with the soprano Claire Seaton's gloriously effortless performance being particularly impressive. Her beautiful rendition of Laudate Dominum, sympathetically reflected by the choir, will live long in the memory.

St Chad's Camerata, ably led by Martin Hughes, also had a splendid evening, especially being given the chance to perform Haydn's Farewell Symphony as it should be done, with all performers gradually departing and leaving only a forlorn violin duo on stage. It was good to see them back for the Mozart; the balance between choir and orchestra was better here than in the Haydn Mass, when the horns were a little too dominant at times…often a problem in the cathedral.

Yes, there were one or two moments where perhaps the tempi weren't quite settled at the beginnings of slower movements, but these moments were far outweighed by the bubbly excitement, the wonderful dynamic contrasts and the sheer exuberance and youthfulness of this performance, and it augurs well for the future of this "new" choir's second half century. I can't wait to hear Bach's magnificent B Minor Mass at Easter!

by
Megan Barr
January 2011