Easter Concert ()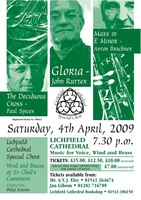 Anton Bruckner, Mass in E minor
John Rutter, Gloria
Paul Spicer, The Deciduous Cross
Pieces
Venue
Lichfield Cathedral, The Close, Lichfield, WS13 7LD [map]
« Haydn's Creation (Dec 2008) ‖ Fauré Favourites (Jun 2009) »
---
Reviews
Bruckner, Spicer and Rutter
The Bruckner Mass in E Minor is a giant work, both in its musical and emotional range. It demonstrated from the outset the fine rapport between conductor Philip Scriven and The Lichfield Cathedral Special Choir. Although the choir could not quite aspire to the tonal richness required for the forte sections, they responded admirably to his direction to provide an exquisite muted tone in the Crucifixus of the Credo, and a heart rending, cascading cry for mercy in the Agnus Dei. In this and the works that followed they were skilfully supported by the Brass and Wind of the St Chad's Camerata, and Martyn Rawles, organ.
The poetry of R S Thomas, chosen as the text for The Deciduous Cross by composer Paul Spicer, is a vivid meditation on the Cross of Easter etched in shadow across a quintessentially British landscape. If birdsong provokes Messiaen to venture out into the furtherest reaches of musical invention here, as explored by Spicer, it brings us home to experience the cosmic expressed through a gentler, more familiar idiom. The choir and orchestra imbued this difficult work with an impressive depth of feeling and I look forward to hearing the new oratorio for Advent 2009 that they have commissioned from this fine composer.
It's perhaps too easy to scoff at the musical world of John Rutter - a world unruffled by the existence of Penderecki, or Stockhausen - but here in the 1974 Gloria there are genuine moments of enduring invention (the filigree organ riffs of the second movement) and one cannot disregard his melodic skill to which the choir responded with such élan and pleasure. It was a vibrant and fitting finish to an adventurous and rewarding evening.
Glen Mackenzie, April 2009