Haydn's Creation ()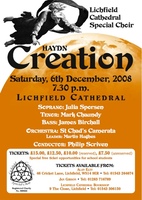 Pieces
Venue
Lichfield Cathedral, The Close, Lichfield, WS13 7LD [map]
« Rachmaninoff Vespers (Jun 2008) ‖ Easter Concert (Apr 2009) »
---
Reviews
Haydn's Creation
Haydn's Creation was, I am told, the second work ever to be performed by Lichfield Cathedral Special Choir, some forty years ago, (the first, perhaps unsurprisingly, being Messiah), and the sense that we were revisiting an old friend was much in evidence in their recent performance in the Cathedral under the baton of Phil Scriven.
Haydn considered this to be one of his greatest works, and in its day it must have presented a fascinating blend of old and new, with the traditional oratorio structure used as a vehicle for some magnificent word-painting through novel instrumentations such as Haydn's use of clarinet as soloist.
The choir's confidence was apparent from the outset, with the opening chorus, sung from memory, (by all but one member of the choir), giving a particularly vibrant "light" moment after St Chad Camerata's appropriately murky opening representation of chaos. It has to be said that some of the orchestral ensemble was less crisp than we have come to expect from this excellent band, but there were equally some sublime individual moments, particularly from the wind and brass, well supported by the subtly restrained continuo.
The progress of Creation was carried forward by the fine trio of soloists. The soprano, Julia Sporsen, brought a clarity and rhythmic certainty to her role, and she excelled as Eve in the apparently effortless Graceful Consort duet with bass-baritone James Birchall. He had many splendid moments, and elicited audible relief from the audience as his relatively light voice successfully plumbed the depths to find the worm! He gave a very creditable account of his taxing role throughout, despite his voice having possibly not yet quite reached its fullest maturity. The tenor, Mark Chaundy, produced a beautiful, easy sound, but was less successful in projecting across this difficult space... clearer diction would have been welcome. He may not have been helped by his physical separation from the other two soloists.
Chorally, however, this performance was a fine example of Lichfield Cathedral Special Choir at its confident best; some uncertainties in establishing tempi at the start of movements (notably the final fugue) were firmly outweighed by vibrant, enthusiastic singing, perhaps heard at its best in Achieved is the glorious work. Intonation was good in all parts, as was the balance, despite the small number of tenors. We look forward to a very different programme from these versatile musicians in April, hopefully with the correct text in the programme next time!
Megan Barr, December 2008