Verdi Requiem ()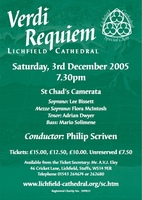 Verdi's Requiem, conducted by Philip Scriven.
Pieces
Venue
Lichfield Cathedral, The Close, Lichfield, WS13 7LD [map]
« Night at the Opera (May 2005) ‖ Carol Concert (Dec 2005) »
---
Reviews
Choir's concert stirs the soul
... a magnificent and thrilling performance... From the opening bars, the fervent and enthusiastic choir produced a good balance between parts, a rich warm tone, and wonderfully clear diction throughout. They managed the colossal emotional swings which characterise the work (Verdi's Requiem) with aplomb ... An evening, then of many soul-stirring moments.
in Lichfield Mercury, December 2005