Winter Concert ()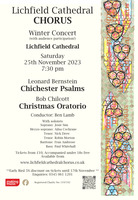 Begin your countdown to Christmas with Lichfield Cathedral Chorus who are pleased to present two evocative and stirring pieces that are sure to rouse the Christmas spirit within!
Leonard Bernstein – Chichester Psalms
Commissioned in 1965 by the Dean of Chichester, setting psalms in Hebrew, Bernstein relied on his theatrical instincts in creating these dramatic and immediately-impactful musical settings. Including hints of West Side Story and other of Bernstein's theatrical themes, the Chichester Psalms packs a punch like no other.
Bob Chilcott – Christmas Oratorio
Hailed as 'a palpable success…and utterly new' at its premiere performance, Bob Chilcott's Christmas Oratorio brings the magic, wonder and joy of a centuries-old story to modern-day life. Using words from the Gospels of St Luke and St Matthew, intertwined with ancient and modern poetry and well-known hymns for all to sing, Chilcott's Christmas Oratorio will bring you the wonder of the Christmas story in a new and sincere way.
Pieces
Venue
Lichfield Cathedral, The Close, Lichfield, WS13 7LD [map]
« The Music of John Rutter (Jun 2023) ‖ Shugborough Christmas Opening Weekend (Dec 2023) »
---
Reviews
Review of Lichfield Cathedral Chorus concert, 25th November in Cathedral
Lichfield Cathedral Chorus's Christmas concert in the cathedral last Saturday featured two very appropriate works. The first, Leonard Bernstein's Chichester Psalms, uses Hebrew psalm texts, and is a plea for peace and reconciliation…so appropriate in these challenging times.
Bernstein is probably best known for his masterly musical West Side Story, and there were certainly reflections of that work here, in some of the romantic melodies and Latin American dance rhythms. The vibrant, discordant opening introduced a chorus who were on the ball and responsive to conductor Ben Lamb from the very first notes. They mastered the Hebrew pronunciation admirably, as well as the challenging rhythms, and the sound quality was excellent with a glorious final moment of peace on an appropriate unison note, perfectly in tune. Occasionally the men's voices seemed somewhat overpowered, but this was simply through lack of numbers and not their quality. The calmer central section featured ex-Cathedral Chorister Josie Sim, who sang magically and effortlessly in a part strongly reflective of her recent role of Maria in West Side Story.
The unusual instrumentation of percussion, harp and organ was similarly vibrant, and Liam Condon as ever found great colour and volume in the chamber organ. Brass instruments and flute then joined the band for the second work, Bob Chilcott's Christmas Oratorio. Here we were instantly bathed in the calming harmonies of this thoughtful setting of the Christmas story. Chilcott's enormous choral experience as both singer and conductor is reflected in the skill of his choral writing, and in this beautiful setting the tenor Evangelist tells the story (the splendidly clear diction of Nick Drew was vital here). Other soloists are cast as the various characters, with the chorus acting as crowd scenes as well as bolstering the audience's lusty singing of the new carol settings. The chorus also sang movingly in the settings of the Magnificat, with soloist Ailsa Cochrane, and Nunc Dimittis, with soloist Fran Ambrose.
All soloists were well selected for their roles…Josie again floating effortlessly through the words of the angel, Robin Morton a convincing Gabriel, Paul Whitehall a fine Herod, and the very experienced Fran and Ailsa adding their impeccable skills to the reflective passages…rather different roles from those of Britten's Mr and Mrs Noye only two weeks ago in the same building!
There was a wonderful consistency about this whole performance…beautifully blended choir with uniform tone throughout all parts, and a fine team of soloists. This really felt like a true community effort and a splendid start to the Christmas season.
Megan Barr, November 2023