Concert: Elgar's The Apostles
(12 April 2014)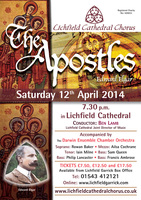 A performance of Edward Elgar's great choral work The Apostles with Darwin Ensemble Chamber Orchestra.
Conductor: Ben Lamb
This piece is magnificent in scale, containing many powerful and innovative musical ideas and has one of the most moving finales in the whole of the classical repertoire. A number of critics regard The Apostles as the pinnacle of Elgar's musical achievements.
Soprano: Rowan Baker, Mezzo soprano: Ailsa Cochrane
Tenor: Iain Milne, Bass: Sam Queen, Philip Lancaster, Francis Ambrose
Read more about the music in our press release
Pieces
« Bach Christmas Oratorio (Dec 2013) ‖ Fauré: Requiem, Williams: Tsunami Requiem (Jun 2014) »
---
Reviews
Wow…what an experience
Review of Lichfield Cathedral Chorus Concert, Cathedral 12th April 2014
Wow…what an experience. The Cathedral was recently the venue for a rare performance of Elgar's magnificent oratorio "The Apostles." Why is it not heard more often? Perhaps it is simply the resources required….a large chorus, a separate semi-chorus, a huge orchestra (on this occasion a greatly enlarged Darwin Ensemble Chamber Orchestra led by Alex Laing), and six soloists…but every one of them was essential to the overall splendour and quality of sound required.
The success of this concert was in no small part due to the excellence of every member of the orchestra (including the Jewish shofar trumpet in the gallery) and the accuracy and conviction of the choir who hardly faltered throughout this complex work. Their concentration, attention to detail and precision were excellent, and the tenors and basses particularly showed a greatly improved confidence and a clean and clear attack. The ladies also had their moments, especially the unaccompanied and moving setting of Peter's weeping.
What a shame that the orchestral playing so often masked the words sung by both choir and soloists and that this, combined with the lack of space in the programme for the text, made it almost impossible at times to follow what was happening. This was really no fault of the performers…the cathedral acoustic favours the brass, and to have attempted to hold them back would have ruined the spirit and in many cases the overall magnificent wash of sound that Elgar wanted. But it put pressure on the soloists, who could often only be heard in snatches. Jesus, sung most sincerely by Fran Ambrose, was usually clear, as was the excellent tenor, Iain Milne, and Peter (Samuel Queen) gave a rich and convincing performance. Jesus, Peter and Judas (Phillip Lancaster) all gave their parts the drama they deserved, whereas the soprano Angel/Mary (Rowan Baker) and last minute stand-in mezzo Mary Magdalene (Janet Shell) seemed to have such a battle to project their voices that they lost the sense of their roles, and Rowan in particular looked anxious throughout.
But I must not grumble…when the orchestral texture was light, we could hear that the choir's diction was excellent, as I am sure it was throughout, and the semi-chorus in the gallery were as clear as a bell; we could hear their voices bouncing off the back wall.
And there were times when Elgar didn't intend us to hear the individual texts, instead surrounding us with fabulous waves of sound drawing together all our emotions and thoughts, as in the final chorus which gave such a joyous ending…Elgar at his best. Ben Lamb is to be congratulated on his commanding and authoritative handling of this challenging work, giving us a profound experience which I for one will remember for many years.
Megan Barr, April 2014