Rossini, Petite Messe Solennelle ()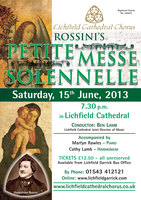 Lichfield Cathedral Chorus will be giving a performance of the Rossini Petite Messe Solennelle with piano and harmonium accompaniment.
The Petite Messe Solennelle was composed in 1863 and was one of the last major works that Rossini composed. However, whilst solemn in subject, this work still has characteristics of his earlier comic opera compositions.
Pieces
Venue
Lichfield Cathedral, The Close, Lichfield, WS13 7LD [map]
« Come and Sing Haydn Creation (May 2013) ‖ Bach Christmas Oratorio (Dec 2013) »
---
Reviews
Rossini review
Does Lichfield realise how lucky it is? There can't be many cities this small that have such a rich musical life — and of such a consistently high standard. The fact that so many first-rate professional musicians actually live and work in the cathedral city means that there's a really friendly feeling about concerts in Lichfield, no matter how polished the performance.
That was certainly the case with Lichfield Cathedral Chorus's performance of Rossini's Petite Messe Solennelle. There's nothing terribly "petite" about this ninety-minute sacred work — and it's not all that "solennelle" either: Rossini was a master of comic opera, and his jaunty, jog-trotting tunes teeter on the brink of pure Gilbert and Sullivan.
But that only added to the sense of fun that surrounded the evening. Four hugely impressive soloists (soprano Charlotte Ashley, mezzo Esther Brazil, tenor Nicholas Berry and bass Fran Ambrose) were conducted by the Cathedral's own Ben Lamb, with his colleagues Martyn Rawles and Cathy Lamb performing Rossini's delightfully bonkers piano and harmonium accompaniment. And as for the Chorus itself, there seemed to be a new warmth in their sound; something as sunny as Rossini's inspiration. As well there might be — after all, it's not every day a mass-setting leaves you grinning.
Richard Bratby, June 2013