Carmina Burana ()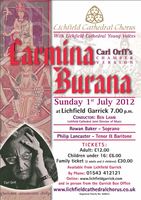 For the first time, Lichfield Cathedral Chorus is taking their Summer Concert to the Lichfield Garrick. They will be performing the lively and colourful Carmina Burana in an arrangement for 2 piano accompaniment.
Carmina Burana is a set of 24 poems that composer Carl Orff set to music in 1936. The opening and closing chorus "O fortuna" will be well known to many.
The Chorus is delighted that Lichfield Cathedral Young Voices will be taking part as the childrens' chorus.
Soloists: Rowan Baker, Philip Lancaster
Conductor: Ben Lamb
Pieces
Venue
Lichfield Garrick, Castle Dyke, Lichfield, WS13 6HR [map]
« Come and sing the Messiah (Apr 2012) ‖ A Christmas Fantasy (Dec 2012) »