Bernstein: Chichester Psalms ()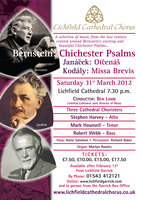 A lovely programme of works for chorus, organ, harp and percussion with a selection of music from the last century by Bernstein, Kodály and Janáček. Perhaps less familiar than some choral music but beautiful and powerful.
The haunting and bombastic Chichester Psalms, written in Hebrew, has sections of joyous jazzy rhythms, of tranquility with solo boy choristers, of rage and then a peaceful ending.
Not content with tackling Hebrew, the Chorus is also taking on Czech in the Janáček Otče náš. This is an extended setting of the Lord's Prayer in six short sections. With the accompaniment of organ and harp, it is atmospheric and reflective. The Kodály Missa Brevis returns to more familiar Latin and 3 Cathedral Choristers will take solo roles high above the Chorus.
Conductor:

Ben Lamb

Organ:

Martyn Rawles

Harp:

Katie Salomon

Percussion:

Richard Baker

3 Lichfield Cathedral Choristers and soloists:

Alto: Stephen Harvey, Tenor: Mark Hounsell, Bass: Robert Webb
Pieces
Venue
Lichfield Cathedral, The Close, Lichfield, WS13 7LD [map]
« Beethoven: Missa Solemnis (Dec 2011) ‖ Come and sing the Messiah (Apr 2012) »