Messiah and Advent Oratorio: 50th Anniversary Concert ()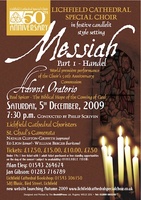 With Lichfield Cathedral Choristers, St Chad's Camerata and soloists Natalie Clifton-Griffiths (Soprano), Ed Lyon (Tenor), William Berger (Baritone) and Philip Jones (Alto). Conducted by Philip Scriven.
An uplifting and well enjoyed concert to celebrate the 50th anniversary of the choir. There was a standing ovation for the world-first performance of a new work by Paul Spicer, commissioned by the choir to mark the occasion.
Programme:
Paul Spicer, Advent Oratorio (World Premiere):
The Biblical Hope of the Coming of God.
Handel, Messiah (Part One)
Messiah is possibly the best-loved work for the Christmas season, and the first work ever performed by the Special Choir. 50 years on the choir is introduced a new work to lead into the festive season with the world première of Advent Oratorio by Paul Spicer, especially commissioned for the anniversary. Following the success of the Easter Oratorio, Advent Oratorio is another collaboration between Tom Wright and Paul Spicer. It is a setting of the Advent story with John the Baptist central to the action. It has a similar pattern of choruses, arias, recitatives, chorales and big Advent hymns in new arrangements for the audience to sing.
Pieces
Venue
Lichfield Cathedral, The Close, Lichfield, WS13 7LD [map]
« Fauré Favourites (Jun 2009) ‖ Carol Concert with the Salvation Army Cannock Citadel Band (Dec 2009) »
---
Reviews
Advent without cant, and carols in no man's land
Works by two composers deeply grounded in cathedral music provided two of the most satisfying premières of last year during its closing weeks.
Paul Spicer's impressive new hour-long Advent Oratorio, heard in Lichfield Cathedral, set a well-chosen, subtly inflected scriptural Advent text by the Bishop of Durham, Dr Tom Wright.
The career of Paul Spicer, a former chorister of New College, Oxford, has embraced teaching, choral conducting, BBC radio production, biographies (of Herbert Howells and George Dyson), and chairmanship of the Gerald Finzi Society. He has an encyclopaedic knowledge of English composers, and has revealed himself as also a composer of formidable authority and power.
His oeuvre includes, as well as songs, anthems, organ pieces, and woodwind solos, a wonderful Easter Oratorio (also with a text by Bishop Wright), which deserves to form part of every choral society's repertoire; and The Deciduous Cross - pungent choral settings, with some electrifying writing for wind and brass ensemble, of the Welsh poet RS Thomas.
Both Spicer's and Rathbone's achievement is to have produced a weighty but approachable extended work, free of cant, that might easily replace or sit alongside, for example, Vaughan Williams's Fantasia on Christmas Carols, to make for a less syrupy concert than is often to be heard in Advent.
The musical weight and intellectual vigour of Advent Oratorio, vitally conducted through its several slick, fiery scherzi by the organist of Lichfield Cathedral, Philip Scriven, was immensely satisfying — although it took half the work for him to prise sentience from the boy choristers, who unexpectedly blossomed in the tenth movement, and later again as angels. The oratorio gave me hope that this "retro" approach to post-Elgar large-scale English choral works need not result in something limp, sentimental, or predictable.
Lichfield Cathedral Special Choir (also celebrating an anniversary, its 50th) delivered its part handsomely — eyes were up, unlike the Forest Choir's. Firm and evocative instrumental writing showed to advantage the maturity and artistry of Spicer's writing. The main soloists (three, as in Easter Oratorio), all adroit artists — the Baroque specialist Natalie Clifton-Griffith, the usually lithe but here rather too unbending tenor Ed Lyon, and, the best of the three, the baritone William Berger — enticed, although rarely quite shone.
Shining was reserved for a resplendent Voice of God, intoned from on high in the west end by the baritone Philip Lancaster, a member of the cathedral choir; and for the almost effortless-sounding, fluent countertenor Philip Jones, who, in the first part of Handel's Messiah, which formed the evening's fractionally lopsided second half, knocked spots off them all.
This review first appeared in issue 7660 on 8 January 2010.
Roderic Dunnett, in The Church Times, January 2010
Local composer present at World Première at Lichfield
What a strange situation a composer finds himself in when he creates a new musical work. A painter can view his pictures in his studio, a writer reads his finished work in private, but a composer of large musical works must wait for his performers and audience to gather together before the music can become reality. Little wonder then that Lichfield composer Paul Spicer exuded some waves of tension as Philip Scriven's baton descended to start the World Premiere of his new Advent Oratorio, commissioned and performed by Lichfield Cathedral Special Choir to celebrate the choir's milestone 50th Anniversary... a historic occasion indeed, which was also to include the first part of the Messiah, a reflection of their first ever concert.
He need not have worried. The work is a setting of words by the former Dean of Lichfield and current Bishop of Durham, Tom Wright, who flew from America to be present at this first performance. The text demonstrates Bishop Tom's magnificent grasp of English, with its profound and beautifully modulated words reflecting on the widest interpretation of Advent, and this was well matched by Paul Spicer's varied and colourful settings, which involved not only the choir, orchestra and soloists but also followed the Baroque Oratorio tradition of incorporating hymns for everyone to sing.
The Cathedral was packed for this very special occasion, with many former friends and supporters travelling many miles, and they were not disappointed, for this was indeed a stunning performance by the Special Choir, who had clearly expended a great deal of energy in successfully learning the complex yet singable and satisfying score. Mr Spicer, himself a highly regarded choral conductor as well as composer, showed his excellent understanding of the human voice in his flowing lines, many of which brought to mind the music of twentieth century English composers such as Howells and Finzi, yet still had a distinctive character of their own. His variety of approach, contrast in textures and skilful use of voices and instrumentation were tremendously exciting and brought the magnificent libretto to life.
This score was, of course, new to everyone including soloists and the orchestra, St Chad's Camerata, who of necessity had little rehearsal time yet performed confidently. The soloists were given sympathetic and melodious lines, and the crafting of their roles as Evangelist (tenor Ed Lyon) and Prophet John the Baptist (William Berger), with reflective Arias by Natalie Clifton-Griffith (another former Lichfield resident) was excellent. Natalie's clear, true soprano voice floated through the cathedral in her higher register, though was occasionally masked in the lower parts of her voice by the wind scoring, which although admirably light was still very dominant in this particular building. The fine baritone William Berger quickly settled into in his role as John the Baptist, and the Evangelist's role was sung firmly and with clear diction by Ed Lyon.
Other important parts were taken by our excellent Cathedral choristers who produced a beautifully unified tone, but less good diction, and two very competent voices from the choir, though their respective God and Jesus both sounded a little too distant and underpowered from where I was sitting. But the greatest praise must go to the Special Choir itself, whose diligence in learning this splendid new work reaped its reward in a brilliant and memorable performance, establishing themselves immediately in a confident opening chorus with excellent diction which continued throughout the performance.
The overarching sense of building to the glorious climax of the Coming which Tom Wright's words developed were cleverly matched in Paul Spicer's reworking of some of the great hymns with which the audience were invited to join, and in which he was able to exploit his expertise in harmonization and orchestration. There were some wonderful crunchy moments when I was glad to be unable to sing through having lost my voice and was consequently able to hear the wonderful harmonies enveloping me...the second verse of O come O come Emmanuel was positively spine-tingling. And the final great chorus and positive shout of "Come, Lord Come" simply left us hoping and praying for more. A well-deserved standing ovation for a sympathetically-written and profoundly expressed work which I am sure we shall hear again in the not-too-distant future.
And that was only the interval! The same forces continued with the first part of The Messiah which had been performed at the choir's first concert 50 years ago. The soloists were joined by the alto Philip Jones, who gave a commendable performance if a little weak in his lower voice. Natalie was absolutely on home ground here and gave a sublime performance of Rejoice Greatly, whilst William Berger showed us how important the body language is when singing - his "people that walked in darkness" displayed a rarely-heard profundity.
Perhaps the effort of the Spicer had slightly overtaxed the choir, who seemed less confident in parts of their choruses. There were certainly more eyes glued to copies than to the conductor, or perhaps Mr Scriven's rapid tempi surprised them a little... but then it was getting late and the pub was calling. Again, the over-loud wind, brass and basses tended to dominate the acoustic in this building, making it difficult to hear some of the vocal parts, a factor which really needs addressing in future.
All in all, a magnificent way to celebrate this excellent organisation's fifty continuous years of service to the people of Lichfield and district, enjoyed by the most appreciative of audiences. Long may their music-making continue.
Megan Barr, December 2009
Advent Oratorio at Lichfield Cathedral
We all joined in choir practice at Lichfield Cathedral on Saturday evening, as conductor Philip Scriven genially rehearsed us in the audience hymns which are such an integral part of Paul Spicer's Advent Oratorio, which he was about to premiere.
And this congregation participation is as vital an element as it is in several of Britten's works, and as implied by the chorales in Bach's Passions and the spirituals in Tippett's Child of our Time.
The first and second coming of the Messiah involves us all, and Spicer makes us continually aware of this in the urgently dramatic, occasionally reflective, unfolding of this worthy successor to his Easter Oratorio of 2000.
Its musical language is as effective and direct as that of Spicer's two great idols, Finzi and Howells, and holds no terrors for performer or listener
Bishop Tom Wright's libretto draws from a wide range of biblical sources, but expresses so much in throat-grabbing, colloquial terms, and the singers - the remarkable Lichfield Cathedral Special Choir (celebrating its 50th anniversary), Lichfield Cathedral choristers, soloists Natalie Clifton-Griffith, Ed Lyon, William Berger, supported by the resourceful and alert St Chad's Camerata - delivered its message with committed engagement.
The big climactic moments were persuasively handled by Scriven, and the standing ovation at the end was among the very few I've been happy to join.
Christopher Morley, December 2009