Messiah and Advent Oratorio: 50th Anniversary Concert (Sat 5 Dec 2009)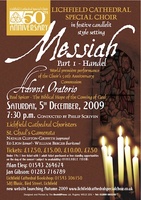 With Lichfield Cathedral Choristers, St Chad's Camerata and soloists Natalie Clifton-Griffiths (Soprano), Ed Lyon (Tenor), William Berger (Baritone) and Philip Jones (Alto). Conducted by Philip Scriven.
An uplifting and well enjoyed concert to celebrate the 50th anniversary of the choir. There was a standing ovation for the world-first performance of a new work by Paul Spicer, commissioned by the choir to mark the occasion.
Programme:
Paul Spicer, Advent Oratorio (World Premiere):
The Biblical Hope of the Coming of God.
Handel, Messiah (Part One)
Messiah is possibly the best-loved work for the Christmas season, and the first work ever performed by the Special Choir. 50 years on the choir is introduced a new work to lead into the festive season with the world première of Advent Oratorio by Paul Spicer, especially commissioned for the anniversary. Following the success of the Easter Oratorio, Advent Oratorio is another collaboration between Tom Wright and Paul Spicer. It is a setting of the Advent story with John the Baptist central to the action. It has a similar pattern of choruses, arias, recitatives, chorales and big Advent hymns in new arrangements for the audience to sing.
Pieces
Venue
Lichfield Cathedral, The Close, Lichfield, WS13 7LD [map]
« Fauré Favourites (Jun 2009) ‖ Carol Concert with the Salvation Army Cannock Citadel Band (Dec 2009) »
---
Reviews
Advent without cant, and carols in no man's land
Works by two composers deeply grounded in cathedral music provided two of the most satisfying premières of last year during its closing weeks.
Paul Spicer's impressive new hour-long Advent Oratorio, heard in Lichfield Cathedral, set a well-chosen, subtly inflected scriptural Advent text by the Bishop of Durham, Dr Tom Wright.
The career of Paul Spicer, a former chorister of New College, Oxford, has embraced teaching, choral conducting, BBC radio production, biographies (of Herbert Howells and George Dyson), and chairmanship of the Gerald Finzi Society. He has an encyclopedic knowledge of English composers, and has revealed himself as also a composer of formidable authority and power.
His oeuvre includes, as well as songs, anthems, organ pieces, and woodwind solos, a wonderful Easter Oratorio (also with a text by Bishop Wright), which deserves to form part of every choral society's repertoire; and The Deciduous Cross - pungent choral settings, with some electrifying writing for wind and brass ensemble, of the Welsh poet R. S. Thomas.
Both Spicer's and Rathbone's achievement is to have produced a weighty but approachable extended work, free of cant, that might easily replace or sit alongside, for example, Vaughan Williams's Fantasia on Christmas Carols, to make for a less syrupy concert than is often to be heard in Advent.
The musical weight and intellectual vigour of Advent Oratorio, vitally conducted through its several slick, fiery scherzi by the organist of Lichfield Cathedral, Philip Scriven, was immensely satisfying - although it took half the work for him to prise sentience from the boy choristers, who unexpectedly blossomed in the tenth movement, and later again as angels. The oratorio gave me hope that this "retro" approach to post-Elgar large-scale English choral works need not result in something limp, sentimental, or predictable.
Lichfield Cathedral Special Choir (also celebrating an anniversary, its 50th) delivered its part handsomely - eyes were up, unlike the Forest Choir's. Firm and evocative instrumental writing showed to advantage the maturity and artistry of Spicer's writing. The main soloists (three, as in Easter Oratorio), all adroit artists - the Baroque specialist Natalie Clifton-Griffith, the usually lithe but here rather too unbending tenor Ed Lyon, and, the best of the three, the baritone William Berger - enticed, although rarely quite shone.
Shining was reserved for a resplendent Voice of God, intoned from on high in the west end by the baritone Philip Lancaster, a member of the cathedral choir; and for the almost effortless-sounding, fluent countertenor Philip Jones, who, in the first part of Handel's Messiah, which formed the evening's fractionally lopsided second half, knocked spots off them all.
This review by Roderic Dunnett first appeared in issue 7660 of the Church Times on 8 January 2010.
Roderic Dunnett, in The Church Times, January 2010