Messiah by Candlelight ()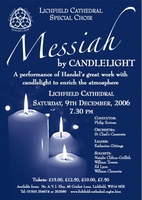 Pieces
Venue
Lichfield Cathedral, The Close, Lichfield, WS13 7LD [map]
« An Evening of Mozart (May 2006) ‖ Dream of Gerontius (Mar 2007) »
---
Reviews
Messiah by Candlelight
A packed house enjoyed a lively and surprisingly intimate performance of this classic work in Lichfield Cathedral on Saturday night by its Special Choir. It was a perfect piece of preparation for Christmas.
The soloists were outstanding. William Towers, a former chorister of the Cathedral, is a haunting alto; Ed Lyon is a most accomplished and expressive tenor, whose opening recitative set the tone; William Clements is a highly experienced and gifted bass, with a welcome capacity to increase volume without losing control. Illness sadly prevented Natalie Clifton-Griffith from singing the soprano part as advertised; but Nina Bennet was an excellent deputy at short notice.
The St Chad's Camerata orchestra was ably led by Katharine Gittings, and the whole performance was conducted at a brisk pace by the Cathedral's Director of Music, Philip Scriven. If conductors demonstrate their skill with their hands, they often betray their passion with their feet. Philip Scriven's hands and feet were both worth watching. The use of the Friend's Gallery by the trumpeter in Glory to God was an inspired touch; and the execution of The trumpet shall sound was an inspiring highlight.
The choir is large and its standards are high. What was inevitably occasionally lost in precision was more than made up by the sheer enjoyment evident in the choir members. A special work in a special venue performed by a Special Choir made for a special night.
Pete Wilcox, December 2006